Every destination has its "Top 10" list of shit to do, and it usually consists of overrated activities that have a swarm of tourists there. Although Atlanta hasn't been my home for long, I feel like I have a pretty good idea of things to do that aren't the norm. Most people will say that they MUST do the touristy crap at least once just to "say they did it." Like your boring friends care anyways. I like to go against the grain and find more exciting activities that people will want to do again and AGAIN.
Shoot the hooch
[dt_divider style="thin" /]
[wp-svg-icons icon="location" wrap="i"] 203 Azalea Dr, Roswell, GA 30075 (multiple locations…this is just one address)
No that doesn't mean you can gun down a hooker. The Chattahoochee River runs through Georgia, down to Alabama and parts of Florida. The term "Shoot the Hooch" means riding down the river in some way, shape or form…I think. You can kayak, canoe, raft and my favorite, TUBE down. With a few drop off and pick up locations, this makes for some summertime fun in the sun. Yes, only open when it's warm……..Don't let your balls shrivel up though. The water stays at a cool 55 to 65 degree temperature year round. BUT at only $10 per one person raft, it's the perfect way to hang with friends while suckin down a 12 pack of wine coolers that will give you a massive hangover later because you spent all day drinking in the sun. [wp-svg-icons icon="smiley" wrap="i"] I've personally gone a couple times and every. single. time it has been a blast! You can bring a cooler and some snacks and strap it up in its own little raft. How cute. You can make reservations ahead of time if you have a big party, but each time I went with a group was on a major holiday and never made a reservation and only had to wait 30-45 minutes. It goes by fast though since they have lawn chairs and corn hole and picnic tables for you to sit at and drink while you wait. If you haven't tubed down the river in 55 degree water, are you really even living???
DRIVE IN MOVIE
[dt_divider style="thin" /]
[wp-svg-icons icon="location" wrap="i"] 2000 Moreland Ave SE, Atlanta, GA 30316
Starlight Six Drive In movie theater. Makes you think of the old days where girls were probably suckin' dick in the back seat of an El Camino wearing poodle skirts. HA, sorry to put that image in your head. #notsorry This place may look run down when you first arrive, but it's really cool! You can bring all the food, drinks, ALCOHOL and blankets you'd need for a movie at your house, but get this…it's in the car instead! They also have a concession stand there too. The best part is that they play new movies! Not those $2 shit movies no one can sit through. You know what would be really fun?? If you had a pick up truck and shoved the back bed with pillows and blankets and watched it like that! I am too smart for my own good sometimes. Adults are $9 and Kids 5-9 are only $1. This would be the perfect date night…and fun for families if your into having kids and shit.
KOREAN SPA
[dt_divider style="thin" /]
[wp-svg-icons icon="location" wrap="i"] 3555 Gwinnett Pl Dr NW, Duluth, GA 30096
Jeju Sauna and Wellbeing. I was first introduced to this place by a very dear friend of mine who also happens to do the best nails in all of Florida, Tyna. The spa is not even 10 minutes down the road from my house and I had no idea about it. This isn't just a regular spa where you get a massage or a facial. This is a whole experience. First off, it's open 365 days a year, 24 hours a day. The prices are: $15 for kids, $25 for adults and $20 for seniors. This gets you a change of clothes, and access to all the amenities.
Jeju Sauna is over 35,000 square feet large, gender-segregated traditional Korean public bathhouse, furnished with hot tubs, showers, Korean traditional kiln saunas. In Korea the word use is  "Jjimjil" which is derived from the words meaning heating. However, in other areas of the building or on other floors there are unisex areas, with a food court, heated floor for lounging and sleeping, wide-screen TVs, exercise rooms, ice rooms, heated mineral rooms, swimming pool and sleeping quarters that have sleeping mats. Jeju Sauna has various rooms with different temperatures to suit guests from preferred relaxing temperatures to hotter temperature. The walls are decorated with different woods, minerals, crystals, stones, and metals. This is to make the ambient mood and smell more natural. The elements used have traditional Korean medicinal purposes in the various rooms.

Jeju Sauna is operated 24 hours a day and always kept in a very sanitary condition for the overall health of patrons, and is cleaned continuously. No harsh chemicals are used in the waters or saunas. – source: their website http://jejusauna.com/korean-bathing-house-in-atlanta/
I figured I would just give you the short about section to really explain it. You get all of that for $25! You can spend the night, you can eat at the food court…swim, steam, sauna, relax, rejuvenate I mean it's a one stop shop! The ONLY other thing else (besides food) you have to pay for is all the extra features like a massage, or the best thing…full body scrub down. The dead skin that they hose off at the end makes you realize how dirty you are. WAY better than a regular spa, this is an all day (and night) event. DO IT!
BREWERY HOPPING
[dt_divider style="thin" /]
[wp-svg-icons icon="location" wrap="i"] 195 Ottley Dr NE, Atlanta, GA 30324 (Sweet Water Brewery…multiple breweries…google them)
If you don't like beer then kindly scroll to the top, hit the X button and never return to my site again you prissy little bitch. BEER=AMERICA. Or at least that's what I think. Atlanta has some pretty diverse breweries, and most of them are within a 10 mile radius of each other. Personally, I have only been to two (Sweet Water & Red Brick) but that just makes for more of a reason to try them all. As a side note (which I'm sure I'll get to eventually in my writing…) Up in North Georgia, there are a wide range of wineries as well. I've hit probably 5 major ones. This just goes to show that Georgia is filled with lots of fun and by fun I mean alcohol.

WALK AROUND PONCE CITY MARKET
[dt_divider style="thin" /]
[wp-svg-icons icon="location" wrap="i"] 675 Ponce de Leon Ave NE, Atlanta, GA 30308
I follow some Atlanta pages on Instagram and saw an awesome picture of this market, and thought to myself, "Where TF have I been??" I looked it up and saw it hadn't been open for too long, so I knew I wasn't going crazy. Ponce City Market is a mixture of old fashioned meets new era. An indoor/outdoor market filled with restaurants, shops and bars. This is a cool place to spend the afternoon walking around trying out everything. You can grab a coffee, eat some organic cotton candy, pick your own beer from a tap and walk around, shop for overrated and over priced furnishings for the house you don't have. Seriously this place has it all. AND if that didn't reel you in, listen to this. They JUST opened the rooftop portion of Ponce City Market. Guess what it is?? A vintage style amusement park. SAY WHATTT?? Putt-putt, more bars and restaurants, carnival style games and rides, all overlooking the Beltline. If you live in Atlanta or are coming to visit, this is definitely something worth seeing.


SLEEP IN A TREE HOUSE
[dt_divider style="thin" /]
[wp-svg-icons icon="location" wrap="i"] Hidden away in Buckhead
So I've gone glamping, and camping but never stayed in a tree house before. If you aren't familiar, AirBnB shows you cool places people rent out all over the world. House boats in Amsterdam, penthouses in Miami, Yurts in the jungle…but right in my own backyard, you can stay in a tree house! Definitely on my To-Do list. At a whopping $350 a night, I still think it would be worth it. When researching I found out that it recently got named the "#1 MOST WISHED FOR LISTING WORLD WIDE!" In the whole world??? Wow, that's amazing! If you are looking for accommodations outside of your comfort zone then this is it! If you are a newbie to the rental community, don't be scurred. Vacation rentals, spare rooms and entire apartments can be way nicer AND cheaper than a hotel. Did I mention wayy cooler too? Here's my code to sign up for AirBnB if you haven't already. http://www.airbnb.com/c/tskipper5
[wp-svg-icons icon="home-3″ wrap="i"] https://www.airbnb.com/rooms/1415908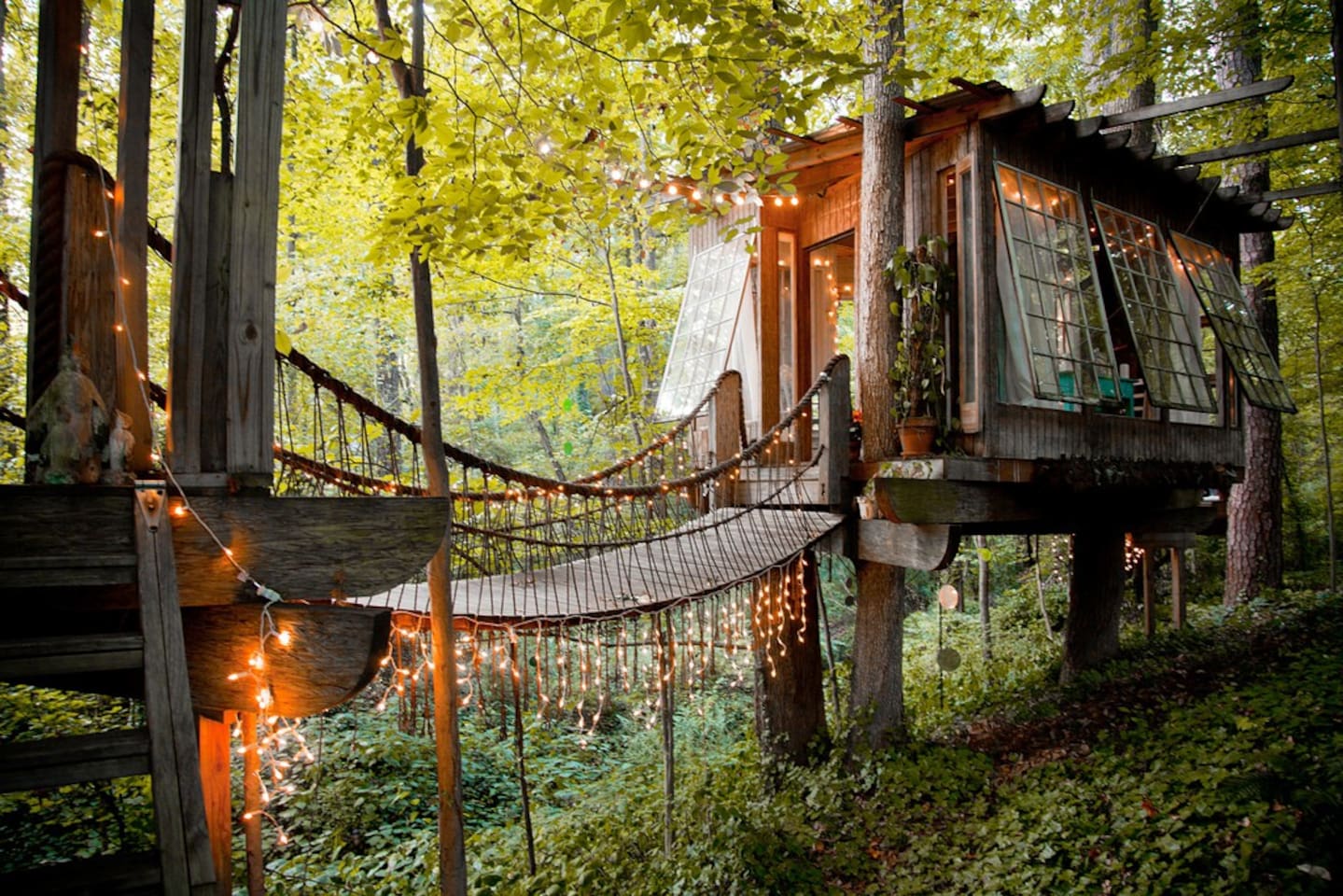 [dt_divider style="thin" /]
LIPS
[wp-svg-icons icon="location" wrap="i"] 3011 Buford Hwy NE, Atlanta, GA 30329
The name says it all. Okay, I know what you're thinking. Not a strip club…even better!! A DRAG QUEEN SHOW!! You read that right. This place is one of the best nights I've had in Atlanta to date. (And that I actually remember) My best friend and her sister came up to visit me and we dragged (get it ?) my boyfriend to the show. He did NOT want to go, but after it was all over, he admitted that it was a lot of fun. Definitely not for children or prudes…but I would love to bring my mom back and take her! These divas love to celebrate everything! From birthday's to bachelorette's, promotions at work or even your divorce! As the website says, "This is Ken and Barbie's dream house on Acid." The entertainment will literally make you laugh till you cry, the food is decent and the drinks will keep on cummin 😉 A MUST DO IN ATLANTA. 
Rent a boat on Lake Lanier
[dt_divider style="thin" /]
[wp-svg-icons icon="location" wrap="i"] 8800 Port Royale Drive Gainesville, Ga 30506
Summer came in wayyyy too hot. As a long standing beach goer, it sucks when the nearest ocean is 5 hours away. Plus, no one likes sand in their vagina. The solution?? THE LAKE. There are a couple lakes spread out over Georgia but I live closer to Lake Lanier so that's the one I go to. Port Royale, the rental company has a wide selection of party barges, speed boats and water activities for you to try. Lake days are the best days. Rounding up a group of your NOT CHEAP friends and hitting the water. I have to say not cheap because we all have those one friends who never wanna pitch in…even for the $10 tubing day, much less a boat rental. Our little group of friends rented a 7 person ski boat for around $430…on a holiday!! That's only about $60 pp. Not too bad for a full day on the water. This is the perfect idea to get rid of that pale skin and soak up some sun!
Go fishing at Lake Allatoona
[dt_divider style="thin" /]
[wp-svg-icons icon="location" wrap="i"] 100 Ridge Road, Canton, GA 30114
I got a fishing excursion for my boyfriend and I to get out on the lake and catch some dinner. We love doing outdoor activities together and this is no different. Might not be like catching Tuna on the coasts of North Carolina but it's what we gotta work with. To be honest, most outdoor activities I find on Groupon. That site has saved me so much money and given me so many good ideas for dates/gifts/fun shit that I never even knew existed. This time around, we were with a guide named Cy who took us out all on our own, and set us up to catch some Striper! We only did a half day trip considering it was a Monday and my boyfriend needed to tend to his job (boringgg) but it was a lot of fun. Just when we thought we wouldn't catch something worth keeping, my BF reeled in a plump and juicy one. Needless to say we ate good for the next couple of nights. If doing outdoorsy stuff is more your style, this is a great way to spend the day.
Well bitches, hopefully you can appreciate my love for activities out of the ordinary. Sure you can go to the Coca-Cola factory or the Georgia Aquarium, but everything on this list is 5 times more fun than all of that combined. Stop doing the norm and go out and see what more Atlanta has to offer!
If you have been living under a rock…please go check out some of the websites I mentioned. I will definitely help you cut costs while not having to cut out fun or entertaining in the mean time.
AIRBNB: referral link
GROUPON: referral link
AND…you can sign up with Ebates to get 3-9% cash back on your Groupon's. I think I've made around $200 in a year just buying Groupon's so it's definitely worth it.
EBATES: referral link
Have you been to Atlanta or do you live here?? Think you know more than me?? HA [wp-svg-icons icon="happy" wrap="i"] Please let me know!! I have been in the Atlanta area for a couple years now and really want to explore all that it has so that I can also share it with you! But for now…
xo Bonvoyage Bitches
[dt_divider style="thin" /]